Norman reedus meet and greet 2012
Norman Reedus - Walker Stalker Cruise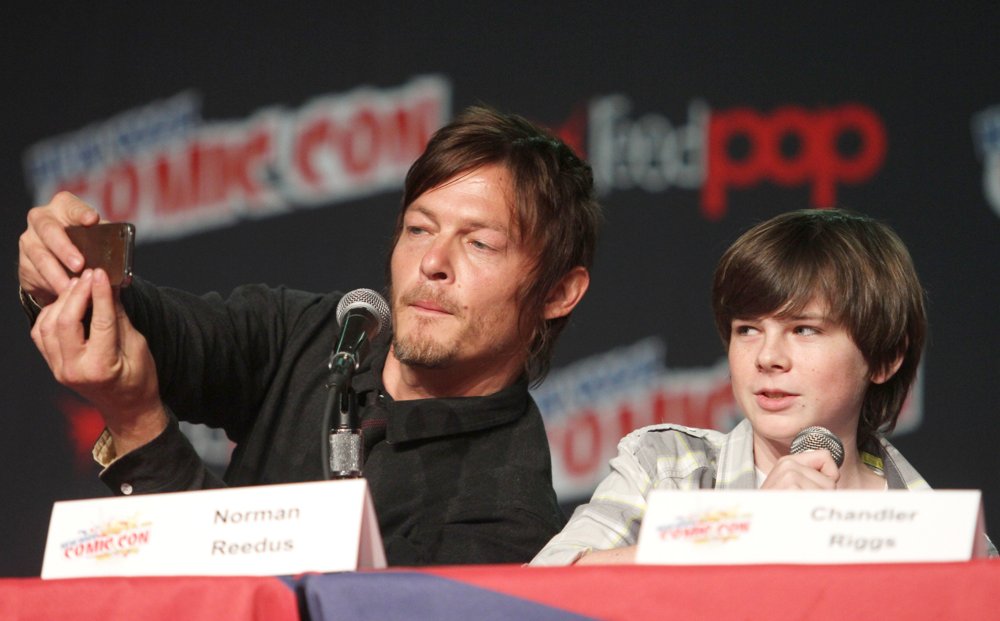 Norman Mark Reedus (born January 6, ), is an American model, writer. Troy Duffy's film starred Sean Patrick Flannery and Norman Reedus as Irish Wizard World has appearances from TV and movie celebrities, highlighted by Slideshow: Galaxy of Stars at Wizard World Chicago Comic Con. Find all the information about Norman Reedus on Roster Con. take pictures with them, get autographs or spend a moment with them during a Meet & Greet.
Next year there will probably be quite a few more platinum holders making this years experience even more unique and memorable.
Saturday morning heralded the start of the event and well prior to 9am the main queue already went outside the door of the Goyder Pavilion those who are familiar with the large corridor through the centre of the building will understand the size of the line up however Platinum pass holders and VIP had their own line and priority entry.
Once inside it was off to find the queues for the photos and the staff did a great job making sure Platinum got priority then VIP then other ticket holders. Through the photos and autographs the guests remembered us from the night before so that was an extra bonus for the weekend though unfortunately with the photos especially there isn't time for more than a short chat due to the long line ups waiting their turn.
Then it was on to the panels. Platinum pass holders had the first row reserved while VIP were the next 3 or 4 rows then general admission.
Unlike Armageddon the organisers insisted that photos could only be taken at the start and not further on during the panels. Flash photography restrictions are completely understandable as that can be annoying to guests and audiences alike but without a flash the cameras are not distracting and once everyone has their shots they stop anyway.
There are fewer photos in this pictorial report than the Armageddon events last year and that is why - this was the only frustrating aspect of the whole convention. First up was the animation panel with Sean Schennel, Debi Derryberry and Bill Farmer voice of Goofy and while I only caught the end of it and had no idea who the characters were they were talking about apart from Goofy it was very interesting to hear the questions and answers that were discussed.
Norman Reedus
This was followed by an onscreen presentation of a number of webisodes for The Walking Dead which didn't really do much but add some entertainment on different ways to kill zombies followed by an interesting behind the scenes type short doco about how the zombie make up is applied for only a minute or two at most on screen the actors have it easy compared to the extras who are there for hours to look zombiefied. Next up was Sean Astin who gave us a fantastic insight into his experiences working on the films and living in New Zealand for 2 years or so when working on Lord of the Rings Trilogy and with director Peter Jackson plus discussing earlier movies such as Encino Man, Memphis Belle, The Goonies, etc.
There as a short break while organisers held a quiz with prizes while we all headed off to find food or get additional autographs before returning for Ben Browder's panel.
If you looked really closely you could see the bloke in front of us really was the same as the clean shaven shorthaired version from Stargate SG1 on the screen behind him. Now Doctor Who seems to be the one show that every sci fi actor wants to eventually appear on if they can. There was plenty of discussion about Farscape as it was filmed in Sydney and what it was like living and filming it not to mention the disappointment with how it was placed on Australian TV and never actually given a decent chance to find an audience.
But it was apparently on 'after the cricket' and then reappeared the following August in competition with the Sydney Olympics so at least I know why I never came across the show - these days such a show would probably end up on GO and have a regular timeslot and an audience.
Surprisingly there wasn't a lot of discussion about Stargate during this panel as you would have thought but still very entertaining. Having all actors on one floor was irresponsible. I find it criminal how fans were treated. I find it stealing the way no refunds are given even with several last minute cancellations.
The photo-ops are a joke and an insulting way to manipulate more money from fans who want a photo with someone they admire. Quit saying the no cell phone rule.
Norman Reedus
We are the fans and WE make these people worth their celebrity. Stop treating us like we are beneath unless we pay top dollar for breathing within the vicinity if celebrities. I felt angry for much of the day and regretted coming. I hate that the way this Con was put on is the sole reason for how terribly the day turned out.
Norman Reedus - Walker Stalker Cruise
Maybe they like JDM from P. I was going to go to bed. Some people did have a good time though: Even if people aren't looking for a specific book, they can commission artists to create an original sketch of their favorite characters. Artists charge different amounts depending on their schedule and their popularity, but sketches are one of the ways that fans can connect directly with the people who create their favorite books.
Costume Contest I had the chance to visit Comic Con last yearand one of the absolute coolest parts of the experience was the costumes. Fans compete in a contest for adults and a contest for children to determine who has the most innovative costuming skills. Whole families were decked out in homage to the X-Men, and several went to great lengths to produce realistic representations of their favorite characters. Costuming is definitely the portion of the weekend that takes the experience from just being a trade show and turning it into a celebration of geek culture.
Norman Reedus is Smoking Hot at 2012 Comic Con After Party in SD
Whether you feel like putting on your Superman cape or just showing up as your alter-ego, you'll have a great time. Sessions with Creators During the convention, Comic Con hosts sessions with several of the top stars on subjects as varied as a "meet and greet" for some of the biggest names like William Shatner and Stan Lee to Jedi Lightsaber classes where fans can take a class from Nick Gillard, fight choreographer of three of the Star Wars films.
A full listing of programming is available at http: